because i'm really behind on posting, thought i'd just share a few things i've come across that in some way, shape, or form, has made me giddy! (if you follow me on twitter, some of these will be repeats, but if you don't then you can indulge all at once!)
Giada has a line at Target- how awesome is that!! i love Giada...what i don't love though is how she can make such yummy looking meals and desserts and still look like that! it's just not fair!!
(image from username craftyclogs on Craftster)
Big Bang Theory- probably one of my favorite shows- ALWAYS has me cracking up, and i swear, Sheldon is just too funny for words! anyways, my sister passed along this link from Craftster that i KNEW i had to share, because, really...how freaken awesome is that! now...if only i can get myself back into crocheting again! darn my wrist!!!
(image from i bake for you)
Cookie Monster Cupcakes- these will definitely be made soon for my niece and nephews to enjoy!! original post here. no tutorial but it's pretty self explanatory how to make these!!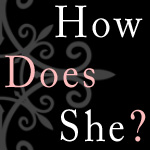 How Does She- can i just tell you how happy i am that i discovered this site (what took me so long?!) anyways, GREAT tutorials and ideas, and constantly feeling motivated to make something fun! definitely ecstatic that i came across this site because for a while i was feeling like i was having some kind of sewing block and needed something to get me started back up again!! found some great handmade valentine ideas from here, as well as these cool frame ideas...oh, and these ruffles!! TOO FUN!
(image from Sweetopia)
the Olympic Mascots-Sumi, Quatchi, and Miga. omg, Vancouver. i have no words to say how much i LOVE Vancouver, and my love for that place grows every time i talk about it!! and especially after our summer trip i would give anything to go back! but these olympic mascots- sooo cute! and after seeing this post, i really want to try making these cookies!!
so, that's all for now...and not because all this snow makes me giddy but i'm posting this pic because i'm just SO OVER IT!! we got dumped with about 30 inches of snow over the weekend, and they are calling for about 10 more tonight. how totally NOT cool is that?! i won't subject you too any more than one picture! i think anyone who is around this area is tired of looking at this snow, but this was one of my fav pics from sunday morning- love the way the sun is glistening behind the trees.